The Ffa Da roastery is currently undergoing a make over therefore this may cause a delay in you receiving your freshly roasted coffee! Please email me on info@ffada.co.uk. if you need your order in a hurry and I'll try my best to sort it out for you! Find more information
about our coffee here!
Ffa Da currently have a selection of six different coffees,
Hwre, Bore da, Gwyl, Jiw Jiw, Halibalw and Nos Da.
Farm to Cup : Bringing the best quality coffee beans to the Cambrian Coast.
Each of our coffees offers a unique flavour, taste and mouthfeel. There is nothing quite like the taste of freshly roasted coffee. We only use Arabica coffee beans and roast in small batches to ensure freshness. Look out for our special blends offered during different times of the year.
We are mindful of the environmental impact of production and waste, we have carefully considered our packaging in the development of Ffa Da.
Create a Better Future for Coffee Farmers and Our Planet.
We only buy our green beans from suppliers who are committed to ensuring that all workers in their global supply chain enjoy safe and fair treatment in their workplace and comply with the modern slavery policy. Our choice of suppliers guarantees the farmers a sustainable future.
Let's raise a REUSABLE cup of coffee to that!
Brewing Suggestions
Enjoy our coffee with a variety of different brewing methods. The table below suggests ratios for you to try, but feel free to alter to suit your palate.
Water Temperature 93-97'c
| | Grind size | Water amount | Coffee amount | Brew Time |
| --- | --- | --- | --- | --- |
| Espresso | Extra Fine | 36ml | 18g | 20-30 sec |
| Moka | Fine | Fill chamber | Fill basket | 3-5 min |
| Aeropress | Fine | 225ml | 15-18g | 1-2 min |
| Filter | Medium | 220ml | 16-18g | 3-4 min |
| Cafetiere | Medium/Coarse | 1 litre | 60g | 4 min |
The Ffa Da Roasting Process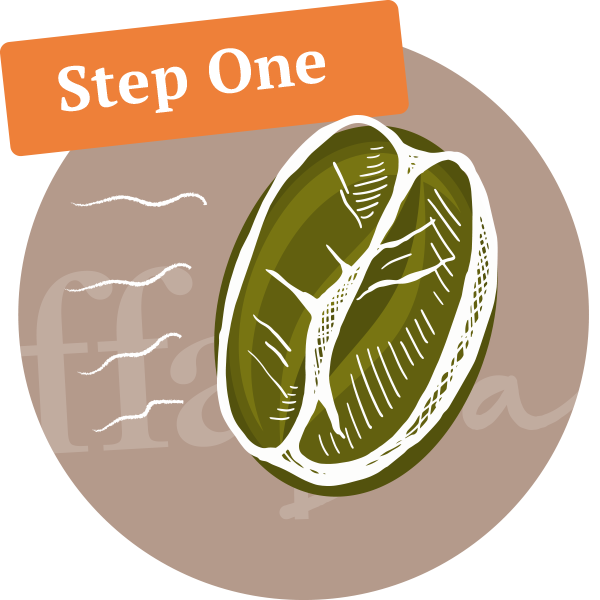 Green coffee beans are placed in the hopper before entering the roasting drum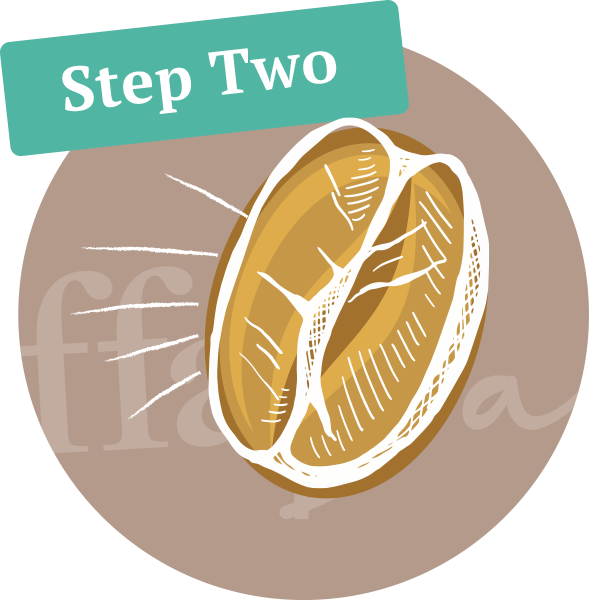 The beans begin by absorbing energy they become yellow and then start giving off heat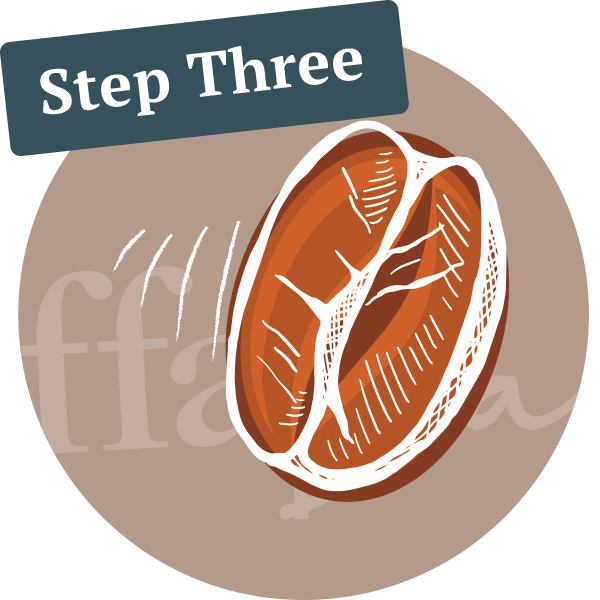 Caramalisation occurs as the beans begin to deepen in colour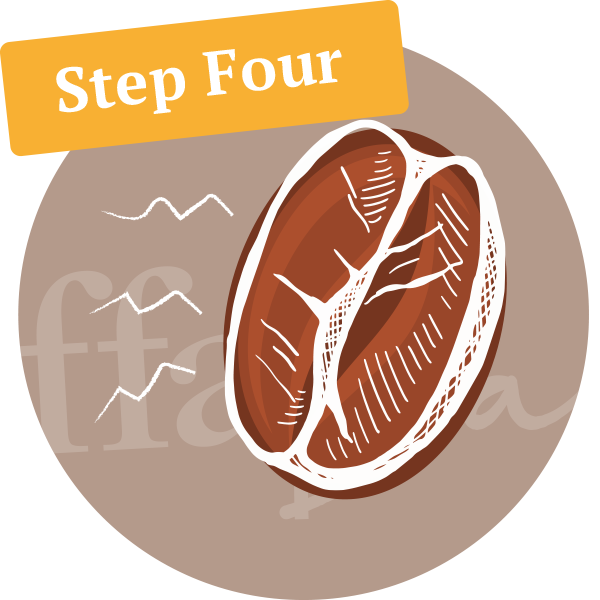 A cracking noise is heard as the beans hit 'First Crack' and now the flavours begin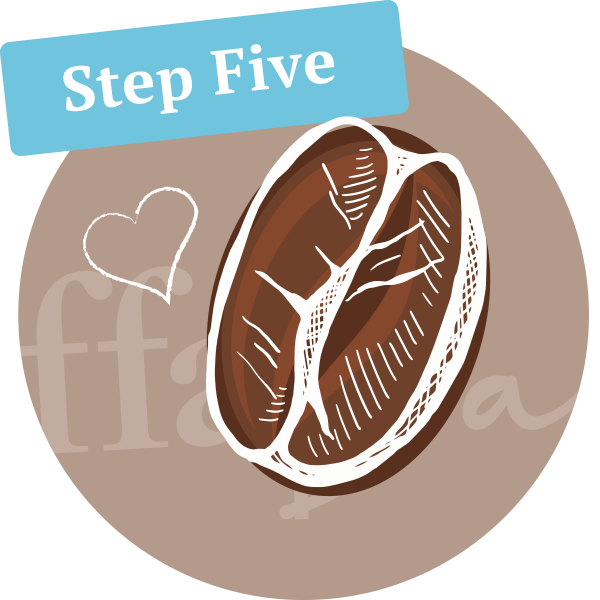 Now the beans are developing, we now need to find the sweet spot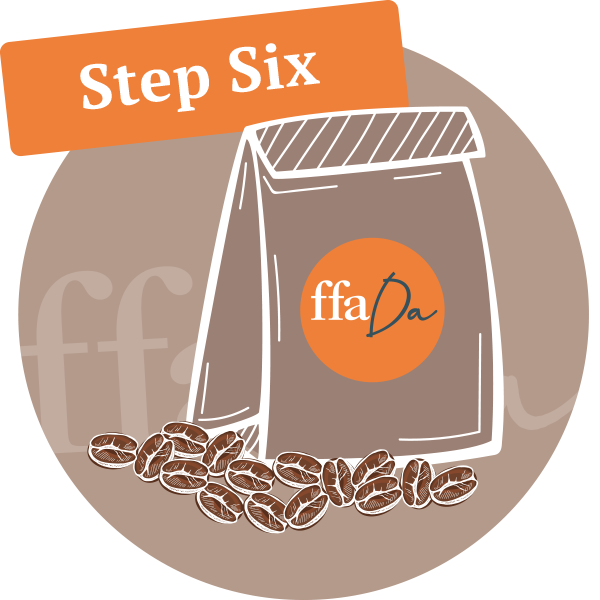 Finally the roasted beans are dropped, cooled, bagged and enjoyed
Hwre
Chocolatey | Berry Burst
Speciality Espresso Blend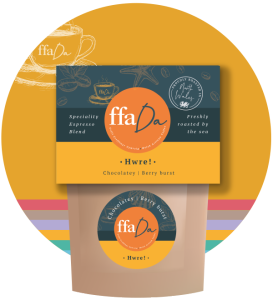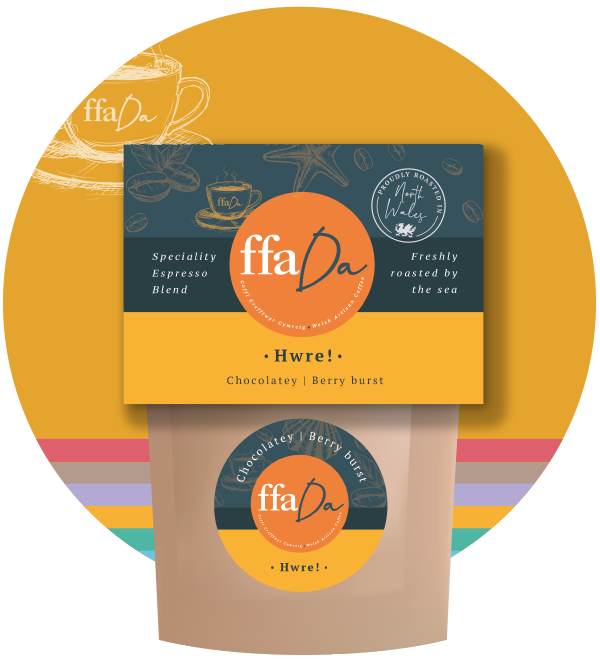 Hwre is our House Espresso Blend. Our African and South American blend has been created with great attention to detail. Hwre translates to Hurrah, a coffee to start your day with a kick.
Hwre is an African and South American espresso blend it has been created with meticulous attention to detail in order to bring out the complimentary characteristics of a blend of origin and process.
Bore da
Bright | Rounded | Sweet
Speciality Coffee Brazil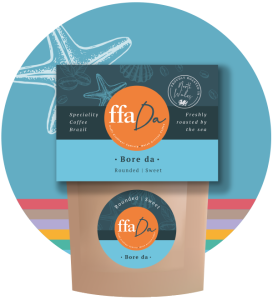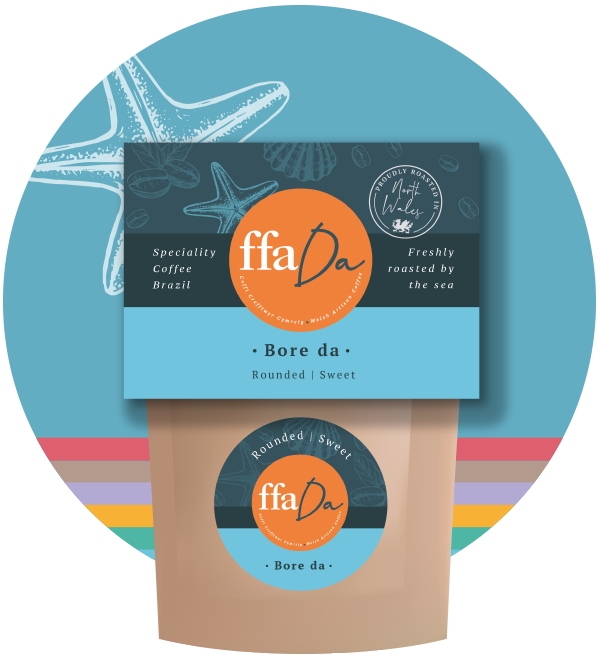 About Bore Da
Bore da is our single origin Brazilian coffee, delicious brewed in a moka pot (stove pot) and also offers lots of flavour brewed with a cafetiere. Its name 'Bore Da' means good morning it's a perfect cup to enjoyed in the morning, smooth and delicious. This coffee is well balanced and full of flavour, its perfect served with all selections of milk.
Farm: Communidade Conquistador
Varietal: Yellow Catuai & Topazio
Processed: Natural
Altitude: 1200 masl
Cup Score: 84.50
Situated on the border of Sul De Minas and the Cerrado sits the mountainous region of ILicnea with farms rising from 1100 – 1320 masl before the land falls away into the expanse of the cerrado. The area is made up of 6 communities. This beautiful area is blessed with a micro climate that provides conditions for producing unique and intriguing coffees.
Nos da
Sweet | Mild
Speciality Decaf Coffee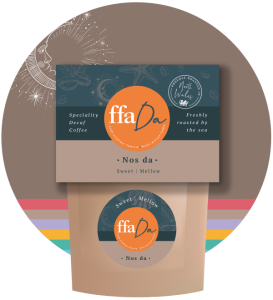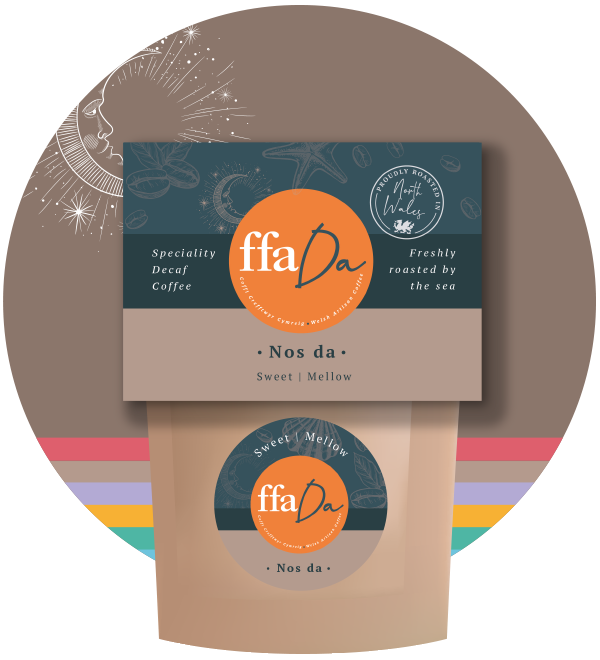 About Nos Da
Nos da is our decaffeinated coffee, for the coffee lovers who enjoy the taste of coffee but not the after effects caffeine can have on your body.
Farm: Communidade Conquistador
Varietal: Yellow Catuai & Topazio
Processed: Natural
Altitude: 1200 masl
Cup Score: 84.50
Café Monteverde, is a company located in the Rodríguez de Mendoza province, Amazonas region – Peru, created in 2003 in order to meet the needs of producers to market their coffee in better conditions, since then Café Monteverde has been establishing commitments with producers and organizations with social and environmental responsibility.
Jiw jiw!
Rich and Deep
Speciality Espresso Blend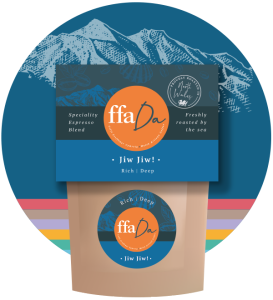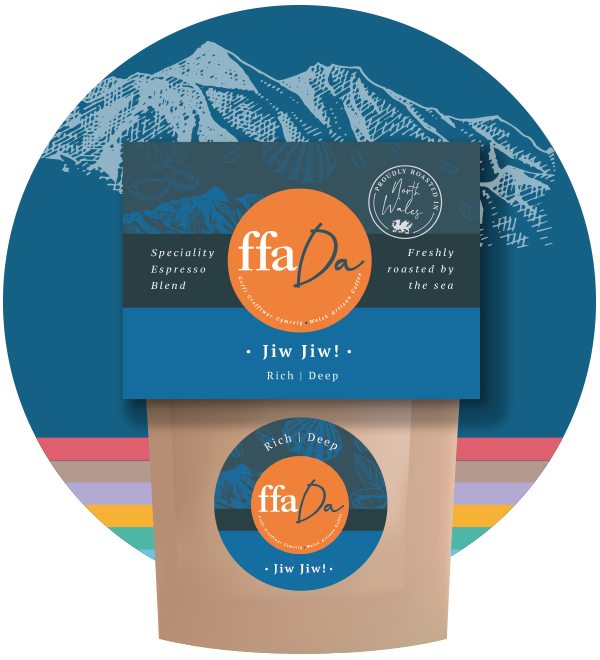 About Jiw jiw!
Jiw jiw was developed to satisfy the needs of the richer, bolder and deeper coffee lover! A delicious blend perfect for espresso and so satisfying as a cafetière. Taste with a selection of different milks, it's devine! Jiw jiw translates to Good God! Yes indeed.
Ffa da is a massive fan of Brazilian coffee beans, this blend is roasted with a hint of South America's fruity Peru beans. This coffee was considered for the stronger coffee lover. Ffa Da only roasts speciality coffee and over roasted dark coffee is never an option for us, but we believe this blend can help educate the dark coffee lover to appreciate speciality coffee.
Gwyl
Complex | Smooth
Speciality Coffee Rwanda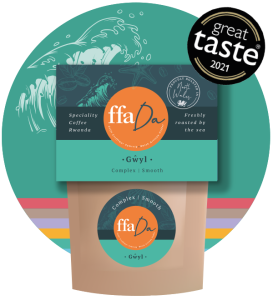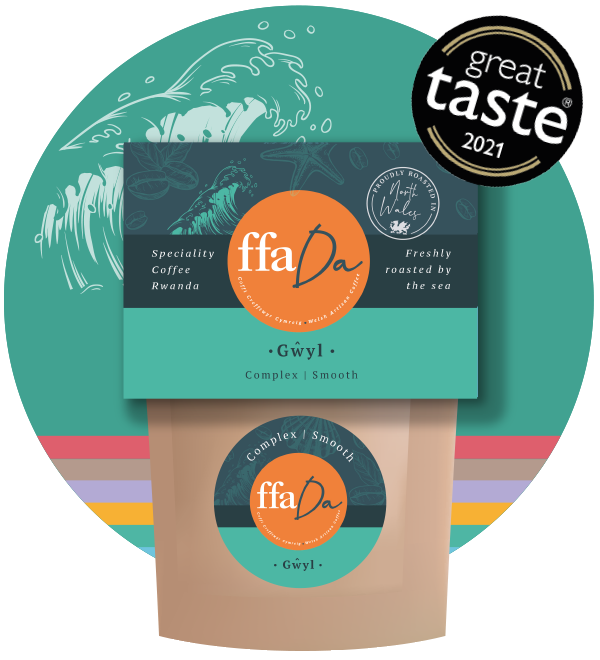 Gwyl is our single origin Rwandan coffee bean, acidic, fruity and light, it's most enjoyed with the more subtle brewing methods such as a cafeitere, milk can be added but first try it served black. This one is our fave!
Washing station: Gitega 108
Varietal: Red bourbon
Processed: Washed
Altitude: 1600 masl
Cup score: 85.75
The Gitega Hill's washing station is located in the Nyamagabe District of the southern province and is located very close to Nyungwe Forest and the traced source of the Nile River. Bernard Uwitije, a native of the area, had been trading non washed Ordinary coffee up until 2015, when he realised the poten coffee.
Halibalŵ
Bright | Juicy | Nutty
Speciality Coffee Peru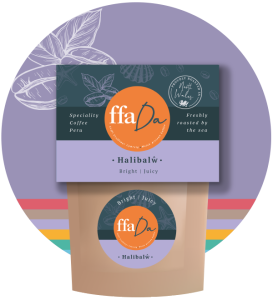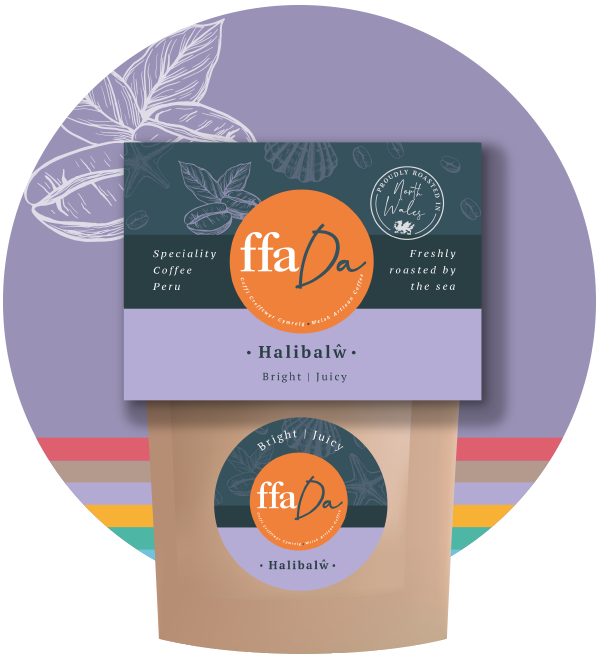 Halibalŵ is our Single Origin Peruvian Coffee. This bean is full of punchy flavours and delicious served black, especially as a cold brew. This coffee complements the palate well after a meal.
Farm: El Basal, Chontali
Varietal: Mixed
Processed: Washed
Altitude: 1800-1900 masl
The El Basal village in the Chontali district and is made up of day lots from various producers within the village. The main variety grown in this area is caturra, but more recently producers have been renovating with castillo, gran colombia or other catimor varieties.
More information about each coffee range is available in the shop